It is not always feasible to attend in-person workshops. Fortunately modern technology allows us to bridge that gap. Our online courses are designed to allow people to learn new skills and extend their knowledge from the comfort of their own homes.
Our online courses allow you to work at your own pace and check that the new knowledge has been assimilated by taking short quizzes or tests. At the end of the course a certificate or diploma will be issued as proof of completion and attainment.
Personalised back-up is available if necessary and on completion of the course students may join our online community where they can clarify doubts and share experiences. Knowing that we are not isolated is often a powerful confidence-builder.
I feel very strongly that this is the way forward for many and I hope that you will enjoy this learning experience.
---
I am pleased to be able to offer this online course on the www.agoracanina.com platform. This "Introduction to Zoopharmacognosy" course is a great opportunity for people who are unable to attend an in-person course. It is also useful for those who would like to revise what they learned at a course in person.
This course is available in Spanish only.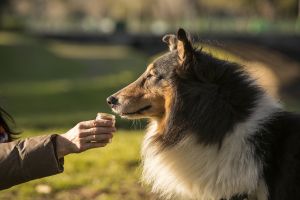 Oliver enjoying his selection.
Introduccion a la zoofarmacognosis como se automedican los animales